Yes, it's another post about Christmas decorations. I'm linking to
Kara's
blog for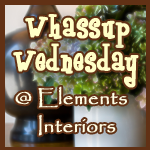 This is her first party & it's anything Christmas this week. I love Kara & her blog! She's funny & a FABULOUS decorator. So that's why this is another post about Christmas decorations. Not to mention that I'm not having the best day. Forgetting the maid is coming & turning the alarm on only to go speeding home from work after only being there 30 mins. to get there 2 minutes too late doesn't lead to a great start to the day. Anyway, Christmas makes me happy so here we go.
Welcome to our house!
I did the garland & wreaths & my hubby hung it all up. The topiaries came from Sam's a couple of years ago.
This is the table in the breakfast area. It's an iPhone pic so it's not very clear. The server in the background has my Nativity on it. I did a post about it already.
Another iPhone pic. This is an iron Christmas Tree I got one year after Christmas. The penguins I bought this year at Z Gallerie just because I like them. I know they don't go with anything really but I like them. I added the little bows around their necks. They remind me of "back in the day". It's a long boring story for anyone that doesn't know it already but suffice it to say one of my friends knew EVERY.SINGLE.WORD of Billy Madison & recited it OFTEN!
This little tree is in the hall bathroom. I bought it at Lowe's last year for like $5.00!
This is the built-ins above the TV. Nothing fancy.
Here's a close up of The Holy Family. I bought it at an after Christmas sale too. It's gold but not quite this shade. It's really hard to get good pics of decorations.
The chandy in the dining room. I had some extra ornaments so I put them here.
The "Big" tree in the living room. It's decorated in burgundy & gold. I promise it's not crooked.
The "Big" tree during the day.
Another view at night just because I like it.
The smaller tree that I have in the kitchen. It's done in red, green & silver & has all of our ornaments that we've collected on trips. I bought this tree on sale at Hob Lob after Christmas last year.
This has nothing to do with Christmas but I won a giveaway from Kara! The candle smells so good & the cookbook looks like there are some recipes that I may be able to do!! The roosters are salt & pepper shakers. Aren't they cute?
In 25 hours we'll be leaving for Disney!! It can't get here soon enough.
Toodles!